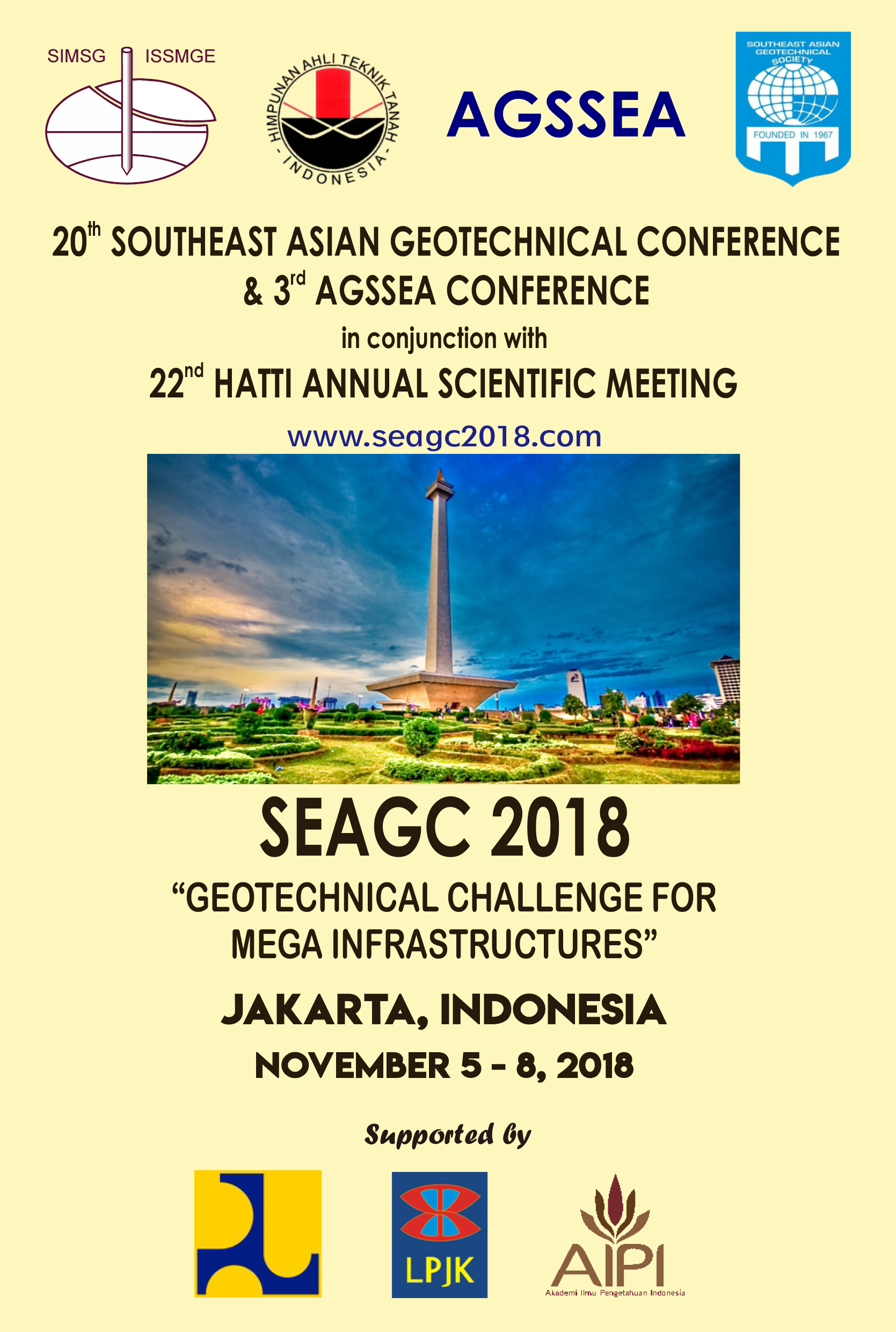 Anggota HATTI dan pemerhati Geoteknik di Indonesia dan mancanegara tercinta.HATTI kembali akan menggelar PIT AKBAR, kali ini untuk yang ke 22 dan lebih istimewa karena bersamaan dengan 20th SOUTH EAST ASIA GEOTECHNICAL CONFERENCE (SEAGC2018) dengan tema "GEOTECHNICAL CHALLENGE FOR MEGA INFRASTRUCTURES" pada tanggal 6-7 November 2018 di Grand Ballroom, Pullman Hotel, Central Park - Jakarta Barat.
12 keynote speaker dan 90 pembicara dalam dan luar negeri akan meramaikan PIT 2018 yang akan terbagi dalam 6 ruangan seminar Hotel Pullman - Jakarta.
Pertemuan Ilmiah Tahunan 2018 lebih komplit, selain jumlah pembicara yang berkualitas dan beragam juga akan dilengkapi dengan pameran perusahaan yang akan mengisi 40 booth yang disediakan panitia di dalam 1/3 ballroom Hotel Pullman.
12 keynote 20thSEAGC2018 - PITXXII 2018 :
Dr. Ir. M. Basoeki Hadimoeljono, M. Sc (Minister of Public Works and Housing, Indonesia)
Prof. Askar Zhussupbekov (The L.N. Gumilyov Eurasian National University, Kazakhstan and Chairman of TC 305 - ISSMGE).
Prof. Ikuo Towhata (Kanto Gakuin University, Japan).
Prof. Masyhur Irsyam (Institut Teknologi Bandung, Indonesia and President of HATTI).
Prof. Paulus P. Rahardjo (Universitas Katolik Parahyangan, Indonesia).
Prof. Eun Chul Shin (Incheon National University, South Korea and Vice President of ISSMGE for Asia).
Prof. Charles Wang Wai Ng (Hong Kong National University of Science and Technology and President of ISSMGE).
Prof. Chang-Yu Ou (National Taiwan University of Science and Technology, Taiwan).
Prof. Chu Jian (Nanyang Technological University, Singapore)
Dato' Dr. Ir. Gue See Sew (CEO of G & P Professionals, Malaysia)
Dr. Noppadol Phienwej (Asian Institute of Technology, Thailand and President of SEAGS)
Ir. Kenny Yee (Honorary Secretary General of AGSSEA, Malaysia)
Selengkapnya...