PIT-XX 2016
Sesuai dengan rencana semula, HATTI kembali menggelar PIT-XX 2016 dengan tema "GEOTECHNICAL ROLE TO ACCELERATE INFRASTRUCTURE CONSTRUCTION IN INDONESIA" pada tanggal 15-16 November 2016 di Birawa Assembly Hall, Hotel Bidakara Jl. Jend. Gatot Subroto, Pancoran - Jakarta Selatan, tempat dimana PIT 2014 dan 2015 dilaksanakan.
Untuk menambah pengetahuan Anggota HATTI dan pemerhati Geoteknik, Panitia tidak tanggung-tanggung, menghadirkan 10 pembicara utama yaitu :
Ir. Basoeki Hadimoeljono, M.Sc., Ph.D (Menteri Pekerjaan Umum dan Perumahan Rakyat RI).
Prof. Ir. Masyhur Irsyam, MSCE, Ph.D.(Ketua Umum HATTI/Wakil PUSGEN/ITB/Anggota AIPI)
Prof. Ir. Paulus P. Rahardjo, MSCE, Ph.D (Gurubesar UNPAR)
Ir. Bigman M. Hutapea, MSc, Ph.D. (ITB)
Ir. Irawan Firmansyah, MSCE (Praktisi Geoteknik)
Prof. C.F. Leung (National University of Singapore)
Prof. Hideki Shimada (Kyushu University, Japan)
Prof. Wei-ming Gong (Southeast University, China)
Prof. Eun Chul Shin (Korean Geotechnical Society, Korea)
Asoc. Prof. Suttisak Suralump (Kasetsart University Bangkok, Thailand)
Dan dua pembicara undangan :
Prof. Dr. Ir. Indra Surya BM (Gurubesar ITS – Surabaya)
Prof. Ir. Widjojo A. Prakoso, MSCE, Ph.D (Gurubesar UI – Depok)
Untuk menghindari antrian panjang di meja registrasi dan menghemat biaya peserta, panitia menyarankan untuk mendaftar lebih awal. Hal ini selain lebih ekonomis, anggota diharapkan dapat membantu panitia dalam mempersiapkan segala sesuatu yang diperlukan. Adapun detil discount seperti tercantum dalam tabel sbb :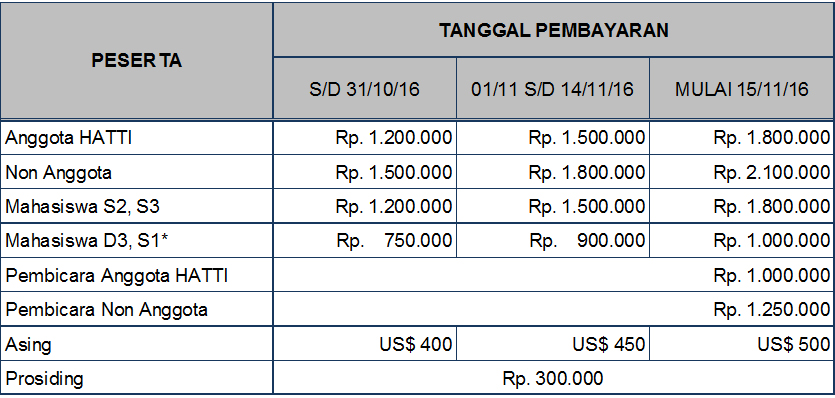 *) : Hanya untuk 10 peserta dan tidak termasuk prosiding.
Selengkapnya...
Schedule of HATTI Conference 15-16 Nov 2016

Pendaftaran Peserta PIT-XX 2016
Download Call for Paper PIT-XX 2016